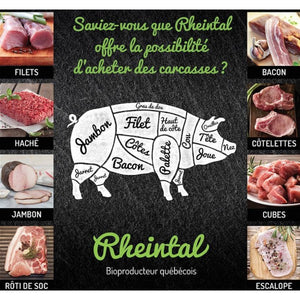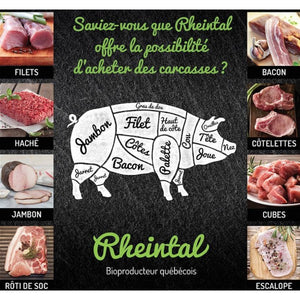 On Sale
1/2 Organic pork vacuum packaging
The 1/2 pork carcass weighs approximately 95 lbs (43kg). In general, the total investment is 470$ plus addition processing the bacon and ham (43kg x $10,89kg + processing bacon and ham) for approximately 56 lb (25kg) of meat. The meat product you receive costs approximately $18,80 per kilogram. All cuts of pork are appropriately labeled, vacuum packed and frozen in proportions according to your wishes.
This meat is vacuum packed and can last from up to 1 year in the freezer. On average, it is necessary to have 0.18 cubic metres of freezer space to hold a 1/2 cut pork.
We will bepleased to assist you in choosing your cuts by explaining everything there is to know and advising you on options and possibilities.

Why purchase a half carcass? Well, it will allow you to save money and time in many ways. Also, it is ideal for families who would like the possibility of sharing the purchase with other family members and friends making it most convenient and cost-effective for all.

Please note it takes 21 to 30 days to receive your order. This allows time to have the veal cut exactly to your specifications. Below is a list of cuts included in your order:

- Pork hocks
- Pork stewing cube and /or shoulder roast
- Ground pork
- Pork chop and/or loin roast and/or bone in loin roast
- Back spare ribs
- Tenderloin
- Boneless buttock roast and/or scallopini and/or brochette cube and/or ham
- Bacon and /or flank
- Side spare ribs
- Pork Chinese fondue
- Bone-heart-tongue-cheek-head-fat
Please note: If you want bacon and ham, an addition of 9,95$/kg (calculated on the weight of these) will be added to the amount of your order for processing costs.
Approximative weight is 43 kg (95 lb) carcass
Price per kg carcass: 10,89$
Please note that there will be an adjustement to the invoice after the order is prepared as the weight is approximate.