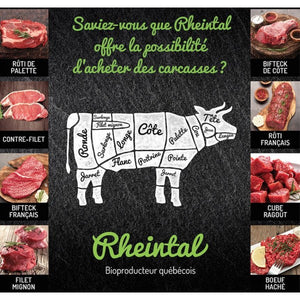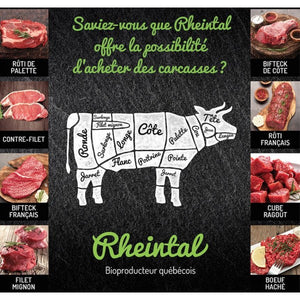 On Sale
1/4 Organic back beef vacuum sealed
The 1/4 beef carcass weighs approximately 165 lbs (75kg). In general, the total investment is $1148 (75kg x $15,30kg) for approximately 100 lb (45kg) of meat. The meat product you receive costs approximately $25,00 per kilogram. All cuts of beef are appropriately labeled, vacuum packed and frozen in proportions according to your wishes.

The meat is vacuum packed and frozen when delivered and may be kept in your freezer for 8 months to 1 year. On average, a freezer space equivalent to 0.25 cubic meters is required to accommodate a 1/4 beef.

We will bepleased to assist you in choosing your cuts by explaining everything there is to know and advising you on options and possibilities.
Why choose a 1/4 beef? It is the most economical and time-saving way to feed your family. Also you may invite other family members and friends to share in the order resulting in a cost savings for all.
Please note it takes 21 to 30 days to receive your order. This allows time to have the beef cut exactly to your specifications.

Here is a list of the cuts you will receive with your 1/4 beef order:

Back beef:
- T-bone steaks or strip loins and beef tenderloins
- Sirloin and/or sirloin roasts and/or brochette cubes
- Highest cut sirloin and/or roasts and/or brochette cubes, interior/exterior/
- Eye of the round roasts or steaks, (Chinese fondue and/or tournados and/or stewing cubes)
- Flap, onglet and flank steaks
- Beef hocks
- Ground beef
- Giblets including heart, liver, tongue, kidneys,
- Bones with and without marrow fat
Approximative weight is 75 kg (165 lb) carcass
Price per kg carcass: 15,30$
Please note that there will be an adjustement to the invoice after the order is prepared as the weight is approximate.